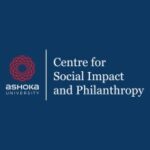 Overview
Philanthropy in India is rapidly gaining momentum, yet relevant research remains scarce. Therefore, the Centre for Social Impact and Philanthropy (CSIP) at Ashoka University launched a research fellowship in 2020 aimed at building this field, strengthening research capacity, and creating high quality, rigorous outputs.
So far, CSIP has mentored two cohorts of research fellows- Cohort of 2021 and Cohort of 2022. This call is for all interested researchers and scholars to apply for CSIP's Cohort of 2023.
Beginning February 2023, a cohort of 10 fellows will spend 9 months conducting research on a topic related to Indian philanthropy and giving trends. The fellows are expected to undertake primary research, attend monthly calls, and participate in three online workshops to develop their skills in background research, literature review, data collection methods, analysis and writing.
The Research Fellowship can be conducted digitally with primary research undertaken via computer, tablet, or phone. At the end of the fellowship, fellows are expected to produce an 8,000-word high-quality working paper to be published on CSIP's website.
The total fellowship amount is INR 9,00,000 per fellowship, which includes stipend and research expenses.
Research Areas
The broad areas of research for this year are as follows:
What does philanthropy in India look like?
How do we define philanthropy in India?
What kind of philanthropy exists in India? Why does it look the way it looks? What are drivers of philanthropy and giving in India? 
What does the philanthropy and giving landscape look like outside of the main metros? Do practices differ across geographies, and urban and rural locations? 
How is philanthropy diversifying out of traditional sectors towards topics such as climate change, scientific research and mental health?
Does philanthropy fund movements, and if so, how? Do we see philanthropists joining forces to fund bigger causes?
How do different civil society organisations approach philanthropy in India? What are their fundraising strategies?
What has been the impact of COVID-19 on the philanthropy ecosystem in India?
What do different kinds of giving look like in India?
What does individual giving look like? Who gives, for what, how and why?
What does community-based giving and volunteering look like in different communities? 
How do family offices give?
What are practices associated with giving in kind? 
Non-formal giving (not giving to an institution but to a family member, employee or similar)
How do people decide how much to give – norms on level of giving. Is it about who asks? 
How does giving in India differ compared to other countries? What are specific incentives and traits that affect the way giving takes place in India compared to other countries?
How does the diaspora give in India?  What are different drivers of giving among the Indian diaspora? Does diaspora giving to India differ to how diaspora give elsewhere? 
What are the different non-traditional forms of giving in India? 
How does online giving and crowdfunding work in India? What are the incentives or barriers to give through such platforms?
Qualifications
Candidates must be based full-time in India, demonstrate an interest and relevant background in philanthropy, have the capacity to undertake rigorous research during the fellowship period, and be able to produce a working paper of publishable quality (with help from workshops and support). 
For the 2023 Research Fellowship, we seek two types of fellows: 1) individual researchers, 2) individuals working with small grassroots nonprofit organisations in India, who can spend half of their time on the research project. For the second type of fellows, a fellowship may be shared between two or three individuals in the organisation. All applicants will be required to obtain a No Objection Certificate (NOC) for their parent organisation. 
Fellows will be selected based on the strength of their research proposal, previous research experience, ability to commit to the fellowship, and ability to produce the desired output. Women, LGBTQIA+, Dalit, Adivasi, people with disabilities and members of other minority and marginalised groups are particularly encouraged to apply.
Research proposals will be evaluated on the basis of the uniqueness of the proposal, its relevance to the research areas identified, coherence, rigour and methodology, and feasibility.
Application Process
Interested candidates should submit the following by November 6, 2022
One-page proposal of your research idea 
CV
One-page cover letter detailing your interest in and qualifications for the fellowship.
A sample of your written work (such as a blog post, paper, article, report and NOC)
Materials must be uploaded in PDF format.
Shortlisted candidates will be contacted by December 6, 2022, and requested to submit a more detailed proposal together with three references by January 6, 2022. Only complete applications will be considered. Fellows will be selected after a round of interviews and  final selection by a jury of experts. The jury's decisions will be final.