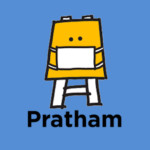 Over the last 20 years, Pratham has grown to be India's largest NGO working to provide quality education to underprivileged youth and children in over 21 states and union territories across the country, with a range of interventions. Learning with Vodafone is a digital education initiative being implemented by Pratham Education Foundation and funded by Vodafone India Foundation and Indus Towers Limited. The program is an innovative teacher-centric technological intervention that is currently working with more than 4,200 schools across 19 states and reaching out to more than 26,000+ teachers.
In 2019, learning with Vodafone had launched Gurushala which has been envisaged as the one-stop platform for teachers for resources, learnings, and networking. Gurushala offers teachers access to over 8,000+ content pieces, over 51 online courses on aspects, like pedagogy, classroom management.
About Part Time Job/internship
Selected intern's day-to-day responsibilities include:
Tagging and translating the content resources
Creating lesson plans according to the various national and regional boards within the given time frame
Working on uploading content to the online website on a required basis
Maintaining the tracker provided for monitoring the performance
Skill(s) required
English Proficiency (Written) Google Workspace Hindi Proficiency (Written) MS-Excel MS-Word
Who can apply
Only Those Candidates Can Apply Who
are available for the part time job/internship
can start the part time job/internship between 20th Oct'22 and 24th Nov'22
are available for duration of 6 months
have relevant skills and interests
Women wanting to start/restart their career can also apply.
Perks
Certificate Letter of recommendation
Number of openings
5