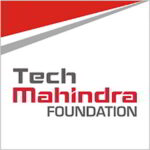 Organization Profile
Tech Mahindra Foundation is the Corporate social responsibility arm of Tech Mahindra Limited, a Mahindra Group Company. The Foundation set up in 2007, as a Section 25 Company (referred to as a Section 8 Company in the Companies Act, 2013), has been working tirelessly in the areas of education, disability and employability with a keen focus on corporate volunteering. It operates across eleven locations in India.
The Foundation has been running SMART Academies (since May 2016) with the intent of offering more advanced and longer-term courses in some specialized vocations. At present, the Foundation runs eight SMART Academies, including five SMART Academies for Healthcare, three SMART Academies for Digital Technologies and one SMART Academy for Logistics. The goal of setting up these Academies was twofold — create, build and nurture youth to develop skills in specific industries including healthcare, digital technologies and logistics along with uplifting country's youth and transforming them into world-class professionals. The Academies offer both diploma and certificate (by the qualified professionals) courses.
Roles and Responsibilities
Create marketing and mobilization plan for achieving admissions target.
Supervision and consolidation of the entire effort and the work done by the BD/Admission team.
Formulate Admission/Enrolment Plan and execute it in line with the assigned targets.
Effective execution of Admission/Enrolment Plan of the Academy.
Act as mentor and motivator to the BD/Admission Team.
Develop periodic reporting templates for BD along with the template for report for the senior management and submit reports thereof.
Hold periodic meetings with the BD team and suggest changes based on developments reported.
Arrange to develop a data base of potential students for follow up.
Arrange and conduct Academy visits and do presentation about the courses and the Academy and support counsellors in mobilizing visitors with the intent to convert visits into admissions.
Develop detailed understanding of assigned territory and identify clusters for potential students.
Work in collaboration with NGOs/Organizations/Community leaders/Educational institutes/Govt. departments/etc. to reach out to students.
Identify potential students during mobilization and establish and maintain good relationship with them.
Support the counsellor in taking all calls and maintain records of all incoming calls in given format.
Keep himself and the BD Team updated on the courses run by the Academy as also the changes in the courses from time to time.
Maintain data base of parents / guardian / prospective students visiting Academy with information as to their educational qualification, profession and annual income in give form
Should have in-depth understanding of the Student Admission/Enrolment Process in education sector.
Desired Skill Set
Attention to detail, empathy and inclusive approach.
Excellent professional knowledge.
Excellent written and verbal communication skills.
Good interpersonal skills.
Experience: Minimum 5-10 years' experience in Business Development in the Higher Education Sector.
Qualification: Graduate or Post Graduate with relevant experience