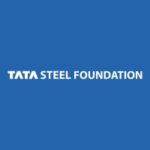 WHO ARE WE: Instituted on August 16, 2016 Tata Steel Foundation is a wholly owned subsidiary of Tata Steel Limited. A Section 8 company, it is spread across 11 units, most of them in the two states of Jharkhand and Odisha. With a vision to create an enlightened and equitable society, we are committed towards playing a larger role in India's sustainable development by embedding wider economic, social, and environmental objectives through its programmes.
The Communication vertical of Tata Steel Foundation is an emerging vertical which brings to the table an element of scouting for the right intent, talent and zeal befitting the ever-spreading universe of development communication. It has been evolving rapidly and continued to encompass a newer and exciting lens on the communication of our programmes, leading to the larger endeavor of creating impact ecosystems within the universe of the Foundation. The following are some of the core areas that Communication engages in:
1. Brand Strategy and implementation
2. Web Presence (WP)
3. Internal Communication (IC)
4. Organizational Content
5. Thematic Communication
We are looking for a suitable placement for sub-vertical:
6.External Communication (EC): The Foundation is geographically spread across 11 locations. This geographic mix calls for strong, vibrant external communication with its core stakeholder groups other than communities, particularly vernacular media, academia, and other peer organizations. Broadly categorized, the EC-sub-vertical contributes to strengthening on-ground relations for the Foundation through proactive Public relations, story gathering, and deployment of brand strategy across Odisha.
Reporting Relationship: Assistant Manager External Communication>>Senior Manager Communication
Key Deliverables:
Develop relations with internal stakeholders including locational teams across Odisha.
Create a seamless flow of information between Corporate Communications of Tata Steel as well as Tata group of companies across Odisha.
Create and maintain relations with external stakeholders including media, academia, and other peer groups.
Be responsible for conceptualization, packaging, and implementation of strategic communication plans across locations in close synergy with Brand, Content, and Internal Communication sub-verticals.
Enable Organisational Content Manager in maintaining TSF database (issue-based paper, stories, and documentation for various programmes) in accordance with TSF ERP platform requirement.
Handle cross-team functionalities through an effective inter-personal and vendor-partner management approach.
Create a database of locational vendor partners for effective deployment of communication plans.
It is our endeavor to work with professionals who demonstrate dedication and a sense of ownership to engage with the internal and external stakeholders across our communities, our employees and the global audience to help strike the correct cord of leadership based on value creation and corporate citizenship.
Min. Qualification: Bachelors in English/ Journalism or a related degree
Min No. of years of experience: ≥ 1 – 3 years of experience in creating content for an organization Experience in NGO/ Development Sector will be preferred
Behavioral Skill Sets:
Decision-making and Weighing Risks
Time Management and Prioritizing
Ability to work in a team
Liaising with stakeholders
A softer quality of keeping up team morale through a positive attitude and mind-set
Technical Skill Sets:
Proficiency in MS Office
Understanding of creative software applications
Basics of Photography & Videography
Knowledge of New Media (social media channels)
Experience of handling vernacular media, other external groups as well as multi-team collaboration will be preferred