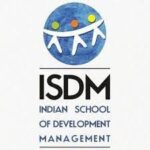 About ISDM
ISDM is an institution founded to create, strengthen and establish Development Management, a domain that transcends the exclusive silos of 'development perspectives' and 'management principles'. ISDM recognises the need to 'professionalise' the Leading and Managing of Social Purpose Organisations (SPOs). The institution sees the development space as requiring the application of management disciplines that are unique and tailored to the scale of the sector. Management that doesn't merely retrofit Business Management to development projects, but one that is born specifically from the coming together of the two crucial domains.
By 2025, ISDM aims to become the go-to management institute for top professionals wanting to transform the development sector for a greater impact on people's lives. In order to achieve this aim, ISDM has identified three broad focus areas
1.    Continuously building the one-year-long Post-Graduate Program in Development Management (PGP-DM);
2.    Creating a strong research function that will lay the foundations for Development Management and leadership as a unique domain and discipline;
3.   Launching Strategic Capacity Building Programs aimed at influencing and upskilling middle to senior leaders in the social sector through special workshops, short-term courses, and customized convenings.
ISDM has audacious ambitions to build a world-class institution, become a global fountainhead of development management knowledge, and define the domain of development management for the Social Sectors. The belief is that Management for the Social Sectors (or Development Management) will significantly scale up the positive impacts on the lives of people in sustained ways. ISDM is entering a new phase of growth with a revamped program and renewed focus on establishing itself firmly as a preeminent institution in its domain. This requires strategic and energetic institutional leadership.
Key Responsibilities:
Writing and managing content (various formats) for ISDM-All Platforms 
Researching industry-related topics (combining online sources, interviews, and studies)
Oversee a content production team's creation and management of targeted content 
Proofread and edit blog posts before publication
Identify customers' needs and gaps in our content and recommend new topics
Cooperate with the marketing team to create web content and monitor its effectiveness over time
Maintain a content marketing calendar that schedules all aspects of the creation and delivery of content throughout the year
Use target keywords to write search-engine copy that is optimized for search engines (SEO) while remaining entertaining and informative
Stay abreast of current best practices in the industry and review competitor websites to compare their activities with those of your company
Manage Content Repository
Create Brand Guideline for Content Writing
Key Requirements and skills
Proven work experience as a Content Writer, Copywriter or similar role
Portfolio of published articles
Experience doing research using multiple sources
Familiarity with web publications
Excellent writing and editing skills in English
Hands-on experience with Content Management Systems
Ability to meet deadlines
Graduate in English, Journalism or related field with minimum 2 years of work experience