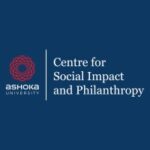 About us
The Centre for Social Impact and Philanthropy (CSIP) at Ashoka University is India's first academic centre focused on enabling strategic and robust philanthropy for social impact. It strives to provide civil society with evidence-based research and knowledge products to grow scale and impact, convening platforms for norm-setting and collaborative learning, and leadership development programmes that strengthen capability and sustainability.
Job Description
Ashoka University is a private, non-profit university. An unprecedented example of collective public philanthropy in India, it is a pioneer in its focus on the Liberal Arts. The University offers undergraduate and postgraduate programmes across the humanities, social sciences and fundamental natural sciences. The aim is to help students become well-rounded individuals who are able to think critically about issues from multiple perspectives, communicate effectively and go on to become ethical, self-aware leaders with a commitment to public service. Ashoka has built collaborations with University of Pennsylvania, University of Michigan, Carleton College, King's College London, Sciences Po, UC Berkeley, Trinity College Dublin and Yale University. To learn more about Ashoka University visit http://ashoka.edu.in
About the Centre for Social Impact and Philanthropy (CSIP)
Along with a robust academic programme, the University is home to Centres of Excellence that address some critical areas of relevance to society, and India in particular. This includes the Centre for Social Impact and Philanthropy(CSIP), which aims at being the foremost Centre in India for research and capacity-building towards the critical advancement of social impact. The Centre's research is focused on critical topics in the space of social impact and strategic philanthropy with an emphasis on applied research.
About the National Foundation for India (NFI)
National Foundation for India (NFI) is a non-profit organisation founded in 1992. Over the past 29 years, NFI has worked in 24 states across India with over 100 partners to build a plural, equitable and democratic society by promoting social justice philanthropy. The organisation has focused on mobilising resources for grassroot organisations to build capacity and strengthen resilience of marginalised and rural communities.
About the Project:
CSIP and NFI are collaborating to convene a diverse set of non-profit organisations across India to seek convergence among them,  amplify the views and concerns of India's voluntary sector in policy discourse, create a space for intra and cross sector dialogue and collaboration, and exemplify the norms of governance the collective espouses.
About the Role:
CSIP and NFI is looking for a Convening Consultant to assist in advancing the convening of a collective of Indian non-profit organisations through convenings, focused group discussions, webinars, etc. S/he will work closely with CSIP's and NFI's internal teams and partner organisations to help build the collective  and will be responsible for supporting outreach initiatives to include a wide range of non-profit organisations as active participants. The ideal candidate will have a good understanding of the Indian voluntary sector and the ability to facilitate convenings – online and offline.
Key Responsibilities
Provide management support to senior leadership
Collaborate with senior leadership to shape governance mechanisms, related systems and processes for the collective
Plan and execute convening activities viz., roundtables, webinars, focused group discussions, etc.
Support implementation of outreach initiatives to maximise participation in the convenings
Develop quarterly progress reports and pre/post convening reports
Manage relationships with funders and key stakeholders of CSIP and NFI 
Does this sound like you?
A Graduate / Post-Graduate / Master's degree from a reputed university in Management or Development Studies
5-7 years of experience in non-profit management, grassroots mobilisation, public policy and/or advocacy
Holds strong understanding of the Indian voluntary sector and its stakeholders
Possess the flexibility to work on multiple projects, display a natural aptitude for partnering with different organisations, planning events and a demonstrated expertise in external communications
Possess strong oral and written communication skills in English and multiple other Indian languages
Ability to work independently and manage multiple work streams simultaneously
Right to work in India
To apply: Please upload your resume and state why you are interested in this role.
Deadline: We will be interviewing on a rolling basis until we find a suitable candidate. Early applications will be preferred.
Benefits
Compensation: Competitive, based on experience.
Location: The office of CSIP is based in Ashoka University Campus in Sonepat and the office of NFI is based in Indian Habitat Centre in New Delhi. The role might require frequent travel to partner and workshop locations. Candidates who are wiling to relocate in or around Delhi will be preferred.