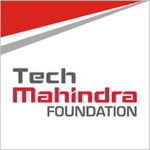 Tech Mahindra Foundation is the Corporate Social Responsibility arm of Tech Mahindra Limited, a Mahindra Group Company. The Foundation set up in 2007, as a Section 25 Company (referred to as a Section 8 Company in the Companies Act, 2013), has been working tirelessly in the areas of education, disability and employability with a keen focus on corporate volunteering. It operates across eleven locations in India.
The Foundation has been running SMART Academies (since May 2016) with the intent of offering more advanced and longer-term courses in some specialized vocations. At present, the Foundation runs eight Tech Mahindra SMART Academies, including four SMART Academies for Healthcare, three SMART Academies for Digital Technologies and one SMART Academy for Logistics.
The goal of setting up these Academies was twofold — create, build and nurture youth to develop skills in specific industries including healthcare, digital technologies and logistics along with uplifting country's youth and transforming them into world-class professionals. The Academies offer both diploma and certificate (by the qualified professionals) courses.
Roles and Responsibilities:
Admin- (30% time have to spent on Admin )
Issuance of instructions /Advisories/Notices/Updates to various desk/departments based on TMF Directives /directions from Director Operations from time to time.
Initiative process of admission of the student's master roll, the student's data.
Verify credential of education qualification/certificates of applicants, will also obtain a certificate from the candidate that he/she is not involved in any legal/criminal case.
Collate any administrative/Disciplinary inputs received from Dean Academics and update record sheet.
Update Finance desk to collect necessary fees from the selected applicant.
Issue identity card/admit card to newly enrolled students.
Issues attendance register to nominated class teacher/tutors of the assign courses. Monitor attendance of student and compile master data sheet.
Maintain staff attendance registers.
Received all equipment's/stores/stationeries purchased by the academy and take on the Ledger stock.
Issue equipment's/ stores/ stationaries to the various departments, entities as per requirements/direction.
Carry out quarterly/annual stock taking board of all property/equipment to identify loss breakages/ abnormal wear and tear. A staff member from the respective departments which hold the responsibilities.
Handing/Taking over of assets within the departments between staff to be coordinated by admin.
Monitor electricity, water, telephones usage and bill.
Monitor use of printers.
Schedule meetings, appointments, interviews, counselling of staff/ students with the Director.
Liaison with the staff of the local governing body, local Police, counselor for solving external issues if any.
Liaison with electricity departments, water supply board, local vendors for constant supply of expendable.
Monitor the internal administration desk (Coordination with other departments and staff record.
Monitor safety and security of the establishments.
Accounts: – (70% time have to spend on Accounts)
Should have complete hold and experience on Tally .
Maintain books of accounts adhering to the accounting standards.
Maintain accounting vouchers with all supporting documents systemically and in an organized manner to facilitate audit and inspection of internal or outside agencies.
Ensure compliance with provisions of law on TDS, GST etc. and to submit timely information to the Foundation facilitating on timely filing of various tax returns.
Periodic reconciliation of bank accounts.
Periodic reconciliation of vendor accounts.
Responsible for collection of fees from students and deposit into the Banks.
Submission of periodic reports to the Foundation as per financial MIS.
Facilitate audit of accounts by internal and / or external agencies.
Monitor the cash flow, budget, and inventories.
Inform Director of any possible excess over the budgetary allocation reasonably in advance so that budgetary allocations are not exceeded.
Timely preparation of the utilization statement for the fund received from the Foundation and request for release of additional grant for the period as defined by the management.
Prepare periodic financial statements for the period as defined by the management and the annual financial statements at the close of the financial year.
Any other work assigns by Director related Accounts and Finance.
Both the roles will be reporting to Project Director.
Desired Skill Set
Attention to detail, empathy and inclusive approach.
Excellent professional knowledge.
Excellent written and verbal communication skills.
Good interpersonal skills.
Good computer skills.
Qualification: Graduate in Commerce