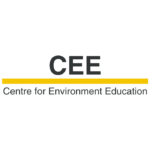 Website Centre for Environment Education (CEE) India
Position : Project Associate
Location: Bangalore
Project: Paryavaran Mitra (Friends of Environment)
About the Project
Paryavaran Mitra is a Sustainability Education Initiative in Schools. The programme intends to enhance students understanding of sustainable development and inculcate positive attitudes that facilitate the processes of sustainable development. It engages students through project- based learning to enhance their understanding of sustainable development, by blending the science and social science concepts. The programme is centred on the Hand Print of the student in the pursuit of positive actions towards sustainability.
Competency Requirements
Qualification: B.Sc. / M.Sc. with any science background. Must have sound knowledge on environmental aspects.
Min. 1 year experience in working with Govt. School management and students with good coordination skills
Good communication & interpersonal skills. Capable of maintaining strong relationships
Good at multitasking
Team management skills & decision-making ability
Open mind & should accept feedbacks given & incorporate the same in the project
Good computer knowledge in MS office 8. Must know Kannada & English languages (read, write & speak)
Remuneration: 
Dependent on educational background and previously drawn (If experienced)
Contact Info:
If you meet the above requirements and would like to apply, send your CV to ceesouth@ceeindia.org with the 'Project Associate – PM' in the subject.
About CEE
Centre for Environment Education (CEE) was established in August 1984 as a Centre of Excellence supported by the Ministry of Environment, Forests and Climate Change (MoEFCC), Government of India. CEE, a national institution with its headquarters in Ahmedabad, has a mandate to promote environmental awareness nationwide. CEE is committed to ensuring that due recognition is given to the role of EE in the promotion of sustainable development. CEE develops innovative programmes and educational material, and builds capacity in the field of education and communication for sustainable development. It undertakes demonstration projects in education, communication and development that endorse attitudes, strategies and technologies that are environmentally sustainable.