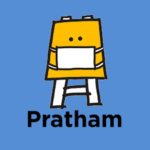 About Pratham
Pratham was founded in 1995, to provide pre-school education to children in Mumbai slums. Over the last 25 years, Pratham has grown in both scope and size to become one of the largest non-profit organizations working with children and youth across India.
Pratham is a widely recognized organization, having received notable awards such as the Lui Che Woo Prize, WISE Prize for Innovation, Skoll Award for Social Entrepreneurship, the Henry R Kravis Prize in Leadership, and the CNN-IBN Indian of the Year for Public Service. For more details, refer to www.pratham.org.
About the Organizational Effectiveness Unit
The Organizational Effectiveness unit has been set up with the mandate of strengthening organizational structures and systems (particularly, people related systems) as well as testing and incubating new programmatic initiatives and approaches, with the mission of strengthening Pratham's overall organizational capacities to deliver on its vision.
Since inception, the unit has been involved in a range of initiatives including streamlining organizational structures and systems, professional development of Pratham teams, COVID-response (helping Pratham teams and families cope with fallout from the pandemic), social protection (building and scaling a model to connect Pratham staff as well as the community-at-large to government schemes), and research (randomized controlled trials).
About the role – The position offers young working professionals the opportunity to be an important part of Pratham's work. The role is cross-functional and will provide candidates exposure to a wide spectrum of teams, projects, and experiences. It will provide the opportunity to support projects end-to-end, working with a range of stakeholders ranging from Pratham leadership to field team members.
Within the team itself, we are recruiting for two potential sub-roles, but we are also open to the possibility of a candidate with the relevant skills and interests assuming both roles.
Senior Associate, People Development: Work with the organizational and unit leadership to help set up and support capacity building programs and professional growth opportunities for Pratham leadership (~300 personnel) and field teams (~5000 personnel). Courses will focus on aspects such as educational governance, policy, and strategy; leadership and people management; content and pedagogy; using data for decision making; communications with government stakeholders and donors.
The Senior Associate will:
Support implementation of Pratham's overall people development and performance management strategy.
Help serve professional growth and capacity building requirements of Pratham leadership and field teams. Coordinate with relevant stakeholders for the design of in-house courses and projects as well and facilitate participants' access to external professional development opportunities.
Ensure smooth implementation of courses. This will include a) development of reading material, assignments, and assessments; b) running classroom sessions; c) evaluating assignments and project work and providing feedback. The senior associate will regularly engage with participants and other relevant stakeholders to understand if course learnings are translating into improved performance, and accordingly help implement corrective strategies.
Develop proposals to seek funding for people development and organization building initiatives at Pratham. Prepare regular reports and presentations to provide progress updates to donors, Pratham leadership and key stakeholders.
Apart from professional development and performance management, support with strengthening hiring, onboarding, knowledge management and other people-related systems. Carry out other tasks and projects, as needed.
Senior Associate, Programs: The senior associate will support conceptualization, incubation and implementation of new programmatic approaches and strategic initiatives. Current projects include strengthening access to government schemes, primarily ration and PMJAY, for teams, volunteers, and communities; policy research engagements in Uttar Pradesh and Madhya Pradesh analysing mechanisms to strengthen schools' accountability towards learning; and, understanding information gaps that district authorities and grassroots organizations face in planning COVID prevention, mitigation, and relief efforts.
The senior associate will:
Work together with teams to develop plans.
Coordinate with teams (content, MME, field leadership) in pursuit of program outcomes, and communicate plans and seek inputs from Pratham leadership.
Support implementation to try and ensure that on-ground execution aligns with program outcomes.
Conduct follow-ups, help organize reviews to track progress and facilitate course corrections where required.
Document and disseminate learnings from programs for internal and external audiences.
Create case studies, co-author thought pieces and articles, draft presentations, and more.
Support relationships with other stakeholders such as funders, knowledge partners, and external researchers. Where required, help develop proposals and liaison with donors to seek funding for new programmatic initiatives.
Take ownership and complete additional tasks as needed to achieve program objectives.
Desired qualifications and experience
At least 2-3 years of work experience.
Preferably Masters in economics, management, or development studies.
Interest in education policy and implementation.
Bias towards action, an entrepreneurial temperament, and resourceful nature.
Care for the people we serve and for the team. Strong interpersonal skills with cross-cultural teams
Ability to break down problems, conduct analyses, and structure solutions.
Ability to communicate complex ideas to a range of stakeholders. Should be able to communicate both in English and Hindi.
Ability to analyse, visualize, and present data. Should be able to create compelling presentations as well. (For those interested in the people development sub-role) ideally prior experience in developing content/conducting workshops on topics such as data, education policy and governance, leadership and management, communications, and education content and pedagogy.
(Situation permitting) willingness to travel regularly to rural and remote areas of India, with limited amenities.
Location
While remote work is ongoing, we are location agnostic. However, once offices reopen the candidate will need to be based out of New Delhi.
Application Process
To apply, please submit your resume, along with a cover letter (~500 words) addressing why you will be a good fit. In case you are more interested in a particular sub-role, do indicate this in your letter.
Candidates may submit their applications to oe@pratham.org, with the following subject line: [Senior Associate, Organizational Effectiveness_Your Name]. Applications will be reviewed on an ongoing basis.