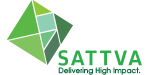 Position: Engagement Manager
Location: Bangalore/ Gurgaon/ Mumbai
Who are we – About Sattva
We are an organization driven by the mission to end poverty in our lifetime. Our work focuses on scalable solutions for sustainable social impact. We work with our clients – corporations, philanthropists, foundations, and social organizations – to achieve social impact goals effectively and maximize the social return on their investment. Deep understanding across sectors and collaboration with multiple stakeholders drive our work. This approach helps us, and our clients develop holistic solutions for solving critical societal problems. 
We are driven by impact and powered by knowledge. We bring the right balance of the head-heart hand to our work. Our work is powered by the passionate energy of our mission-driven young team, guided by the strong leadership and advisory board with multi-dimensional experience in business and social sectors. Our team of 400 (and growing rapidly) across offices in Bangalore, Mumbai, and Delhi comes with stellar professional credentials from diverse backgrounds and is bound together by our common commitment to social impact.
The Opportunity
The Engagement Manager in the Agriculture Practice Area will be an integral part of a team that engages with multiple stakeholders in knowledge products which are at scale in terms of impact and geographies. In this role you will be you will be working hand in hand with the team in creating high quality sectoral knowledge products, networking and building partnerships with multiple stakeholders, and integrating the research-based insights with the business units.
As an Engagement Manager, your strategic thinking skills, analytical skills, interpersonal abilities, creative thinking, people management skills, irrational commitment to impact and collaborative skills will be called upon from the start. While everyday will be of immense learning and trying something new, you shall be expected to work in close coordination within the team in order to undertake the following responsibilities effectively:
Delivery Excellence
Leading research and the development of knowledge derivatives (primer, opinion article, state of the sector report, policy brief etc.) to guide thinking around the big ideas
Steering activities related to identifying, managing, packaging, and disseminating key insights to advance technical practice and provide practitioners with tools they need to conduct better social impact work
Solving simple problems or parts of complex problems by understanding the basic problem-solving framework 
Stakeholder Engagement
Building effective partnerships to co-create and co-disseminate knowledge
Facilitating knowledge sharing events like Learning circle, Roundtables, podcasts, seminar/webinar, workshop as well as internal L&D sessions in collaboration with the Business units and marketing team
Providing thematic level advisory support to the on-going client projects to manage profitability and quality of execution in close coordination with the business units
Institution Building
Leading internal strategic initiatives at the practice area or organizational level that help contribute towards Sattva's continued development
Participate in building and strengthening internal systems and processes which contribute towards effective and efficient functioning of the practice area and organization
Contribute towards the development of junior team members, and towards a strong culture and working environment overall 
Key qualifications and experiences
At Sattva, our goal is realizing the impact on the ground and to drive a collective win by engaging with multiple stakeholders. We are looking for individuals who align with our mission of alleviating poverty in our lifetime and have the following profile:
8-10 years of experience in strategy consulting, leading a business with P&L responsibilities, complex operations, business development and stakeholder management in corporate, social enterprises, consulting firms or global foundations or robust entrepreneurial background 
MBA/MPA or equivalent postgraduate degree in business management/agri-business or rural management
Exceptional problem-solving and advisory skills, strong presentation, and data analytical abilities
Strong articulation skills with the ability to communicate complex ideas effectively
Prior experience in leading diverse teams and people management 
Demonstrated commitment to social impact/prior experience working in the social sector 
Self-driven, high-energy, curious, and adaptable personality with the ability to produce high quality (entrepreneurial mindset) 
We cultivate a supportive and inclusive work environment for all our employees and reinforce diversity in our workplace. All applications regardless of race, religion, caste, color, place of origin, gender, sexuality, disability, and age will be welcome and will be fairly evaluated as per the requirements of the role.