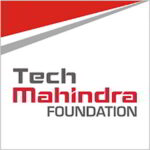 Organization Profile
Tech Mahindra Foundation is the Corporate Social Responsibility arm of Tech Mahindra Limited, a Mahindra Group Company. The Foundation set up in 2007, as a Section 25 Company (referred to as a Section 8 Company in the Companies Act, 2013), has been working tirelessly in the areas of education, disability and employability with a keen focus on corporate volunteering. It operates across eleven locations in India.
The Foundation has been running SMART Academies (since May 2016) with the intent of offering more advanced and longer-term courses in some specialized vocations. At present, the Foundation runs eight Tech Mahindra SMART Academies, including four SMART Academies for Healthcare, three SMART Academies for Digital Technologies and one SMART Academy for Logistics.
The goal of setting up these Academies was twofold — create, build and nurture youth to develop skills in specific industries including healthcare, digital technologies and logistics along with uplifting country's youth and transforming them into world-class professionals. The Academies offer both diploma and certificate (by the qualified professionals) courses.
Roles and Responsibilities:
Conducting sessions on technical aspect of the DICT course (Diploma-Cardiac Technology) on hourly basis – 5 hours once a week (5 hours x 4 weeks / month) until requirement of the position.
Planning of the teaching program including an orientation program in consultation with the Head of the Academics.
Planning for students' Practical experience, ward assignments and vacations in consultation with the Head of the Academics.
Planning of curriculum with the cooperation and collaboration of Head of the Academics.
Teaching classroom and conducting technical practical.
Preparation for classes and demonstration, display of educational material on the notice board
Guiding students in various methods of study and use of reference books and library, individual attention to students when necessary, including individual assignments.
Conducting periodical and terminal tests.
Ensuring that students who appear for examination fulfil all requirements.
Oversee students' lab and clinical work.
Mentor & counsel, the students for any disciplinary issues & job placements.
Grading coursework and evaluating practical performance.
Participating in professional associations and representing their educational institution.
Staying up to date with clinical trends and participation in faculty development.
Desired Skill Set
Attention to detail, empathy and inclusive approach.
Excellent professional knowledge.
Excellent written and verbal communication skills.
Good interpersonal skills.
3 years of clinical experience preferred.
Knowledge of MS Office software.
Hands of practical
Experience: Minimum 3 years of Clinical experience in Cardiac Cath Lab, Cardiac invasive and non-invasive procedures and Cardiac OPD.
Qualification: BSc/MSc Cardiac Technology or Cardiac Technician with 5 years of clinical experience