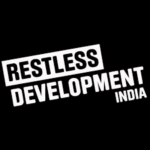 ABOUT RESTLESS DEVELOPMENT
Restless Development is an innovative, global non profit that strengthens Youth Power: the collective force of young leaders to create a better world. We strengthen youth-leadership and youth civil society to be at the forefront of creating lasting change and impact, on our impact priority areas: Education & Livelihoods, Gender & Sexual Rights, Voice & Demoracy and Climate Justice. We are independently registered and governed in nine countries (India, Nepal, Sierra Leone, Tanzania, Uganda, UK, USA, Zambia and Zimbabwe) with a global team of over 230 people and a growing youth collective of 4000 youth civil society groups in over 180 countries.
Never has investing in youth-led change been more necessary. Young leaders have been shaping the response to the pandemic in many of the poorest economies, leading the fight for climate justice, and educating their peers on sexual rights and gender. Young people are already leading the way in creating a better world, they are leading and supporting each other. Yet 75% of youth organisations globally have reported funding cuts since the start of the pandemic. Restless Development works to strengthen youth leadership – in our impact driven programmes and by strengthening youth civil society.
In May 2022 we launched our new global strategy. We recognise that how we do our work is as important as what we do. We are a feminist, anti-racist agency. We recognise the growing inequalities and injustices and are intentional in our efforts to shift power, enabling young people and communities who have previously been marginalised to lead. We not only want to achieve impact on the issues we work on, we also want to create an alternative to the top-down international development sector, proving the success of an alternative that is inclusive, ensures youth civil society can thrive and lead lasting change.
OUR APPROACH TO SAFEGUARDING
Restless Development considers the welfare and protection of children, young people and vulnerable adults to be anorganisational imperative with primacy over the success of programmes or strategic objectives. We recognise that safeguarding is everyone's responsibility and we expect all of our staff, volunteers and partners to ensure we protect the communities in which we operate from harm and abide by our Safeguarding Policy.
BACKGROUND TO THE ROLE
The Youth Climate Action Lab programme will work with three key stakeholders:
Young people, Policy makers and Advocates, and Youth Civil Society organisations in urban Bengaluru, on issues related to climate justice. The programme will develop the knowledge, confidence, and skills of young leaders to hone their research, advocacy, and Leadership, and support them to implement effective change, and articulate their climatejustice visions at regional, national, and international forums. 
The programme will also implement Restless Development's 'Leadership Lab' approach with youth civil society organisations, working on issues related to climate change and climate justice; with the aim of supporting coordinated coalition efforts to ensure that the climate agenda on cities is further mainstreamed. The proposed project envisages to bring about the social change goal through four interconnected outcomes: young people having the confidence and skills to meaningfully engage in decision making, coalition of youth civil society organisations advocating for common goals, evidence based advocacy and generating learnings and best practices as a resource for the sector.
What experience do you need?
Restless development is committed to youth leadership and shifting power. We recruit on potential – and this is particularly so for this role.
Where does this role sit in the global agency?
The Programme Consultant will be an important member of the Youth Climate Action Lab programme and setting up Climate Change work in Bengaluru.
ABOUT THE ROLE
Job title
Programme Assistant
Location
Bengaluru, Karnataka
Unit
Programmes
Line Manager
Programme Coordinator
Staff Managed
NIL- The post will manage volunteers
Salary
● Basic Annual Salary INR 4,80,538/-
● Employer PF contribution: 12% of basic salary and House Rent Allowance 4% of basic salary
● Mobile phone bill reimbursement, health insurance for self & dependents and gratuity benefits, etc. as per the policy of the organization.
● TDS will be applicable as per law.
Date of Joining October 2022
Finance Managed
Budget as designated
KEY PRIORITIES
1. Programme Delivery & Implementation (80%)
The Programme Assistant will be responsible for the programme delivery of Youth Climate Action Lab in Bengaluru. Programme Assistant will also undertake the responsibility for implementation of other initiatives and actions in Bengaluru as and when these are mobilized. Some of the major responsibilities are as following:
● To ensure effective delivery of programme by Youth Climate Champions and the Field team
● To manage, monitor and provide supportive supervision to the volunteers on the field and during training.
● Working to ensure delivery of programme specific targets for the Youth Climate Champions, Youth Facilitators and Trainers to ensure their task is evenly distributed.
● Making regular fortnightly field visits to each placement, analyse the work and provide constructive feedback to the Youth Climate Champions.
● Support the local partner organization managing the Youth Resource Centre and ensuring the field team is trained on and are working on the deliverables as provided.
● Support the field team and the Youth Climate Champions deliver campaigns and sessions in their communities.
● Submitting field visit reports and monthly reports to the Line Manager and ensure effective communication between Programme staff and the Field team including volunteers.
● Representing the position of the program team, and Restless Development in general, to stakeholders and other organizations in the field wherever needed.
● To support the planning and implementation of all Restless Development programmes in the region and submit timely programmatic reports.
● Identify and work towards the logistics of the events, workshops and sessions at local, regional, national level for representation of the work and the organization.
● Develop a detailed project work plan and timetable for delivery of the assigned projects.
● Train the field team on Restless Development Safeguarding Policy quarterly.
● Reviewing and providing feedback on the translation of the modules and necessary materials in the regional language.
Overall
● Be a part of the quarterly staff meeting and annual planning process by sharing experiences and contributing to decision making.
● Support in the planning and implementation of all programmes in the region and submit timely programmatic reports.
● Make regular field visits to each placement, analyse the work and provide constructive feedback to the volunteers and Field team and local partners.
● Submit field visit reports and monthly reports to the Line Manager and ensure effective communication between programme staff.
● Work on identifying local partners working on climate change and other like-minded youth led organizations along with the line manager.
2. Partnership & Networking (10%)
● Work closely with the Line Manager in setting meetings with partners or attending events
● Network and build relationships with relevant partners, NGOs, government departments and establish operational linkage with partners/ like-minded organizations
● Liaison and coordinate with coalition members, government and other stakeholders as assigned
● Represent Restless Development in general, to stakeholders and other organizations in the field
3. Finance & Budget (10%)
● Manage Field office and timely submission of monthly bills; proper documented spending to be ensured
● Work with the Line Manager to ensure that all of programme funds are used as per the organizational guidelines and the assets are used and accounted for properly.
● Check bills from field expenses and work with the Finance and Admin team for accuracy.
● Work on collating the Monthly reports and invoices from the Youth Climate Champions and Researchers.
● Work with the finance team in the annual process of procurement of services for the region.
ABOUT YOU
We are looking for people with the right competencies and skills for the role, and who demonstrate the personal qualities consistent with our Values.
SKILLS AND EXPERIENCE
Essential
● Degree in International Development/ Social Work/ Rural Development/relevant field of study
● Excellent IT skills including MS office and good writing skills
● Minimum of 1 years' experience in the development sector
● Fluent in written and spoken English
● Excellent interpersonal, written and verbal communication skills in English and Kannada language.
● Willingness to travel extensively and work during weekends (time off in lieu can be taken)
● Skilled to conduct in house trainings (knowledge of Climate Change, Gender, Technology would be preferred)
Desirable
● Experience in Community Engagement and Stakeholder mapping
● Experience in supporting young people to advocate through campaigning or high-level influencing
● Previous work experience in youth development
● A clear understanding of contemporary development issues
● Experience in handling budgets
● Experience in delivering trainings
● Technology sound
Restless Development is an Equal Opportunities employer and welcomes applications from all sectors of the community. Restless Development will ensure that no applicant or staff member receives less favourable treatment on the grounds of gender, sexual orientation, marital status, social status, caste, race, ethnic origin, religious belief, age, HIV status, disability, or any other factor that cannot be shown to be relevant to performance.
WHAT WE DO FOR YOU
Remuneration
We are proud to commit to a transparent global salary scale, ensuring a fair and comparable system of pay across all global locations. In addition to salary, we offer pension contributions or housing allowances and flexible working.
Values and Culture
At Restless Development, we're proud that the strength and integrity of our Values has been recognised by staff, young leaders, donors and others who we work with. Beyond this, we have a culture of recognising and celebrating both our Values and our global achievements with monthly Values Champions and an annual Values Day.
Work-life Balance
It goes without saying that we work hard at Restless Development. We also recognise the importance of helping staff to maintain a positive work-life balance by offering:
● 24 days annual leave (in addition to public holidays and with an extra day of annual leave given for each full year of service, up to a maximum of 28 days).
● Birthday Leave
● Access to flexible working.
● Generous study leave, maternity, paternity or adoption leave, and other leave allowances.
Professional Development
Restless Development is proud to be an employer who recognises potential and invests in the development of its staff. We are committed to the professional development of our staff through:
● Empowering opportunities to work on significant projects which stretch and inspire staff – allowing them to develop on-the-job.
● Regular performance management.
● Training and development opportunities, including supporting our staff to identify mentors both within and outside of the agency.
● Quarterly Staff Workshops for all staff to give and receive agency updates, receive training, and socialise.
Travel and Medical Insurance
When travelling abroad with work, all staff will be covered by Restless Development's travel insurance.
Any additional insurances/benefits will be shared with the successful applicant, and are dependent on the country of hire.
KEY DATES
● Please send a completed application form to jobs.india@restlessdevelopment.org by 10th October, 2022. Please note that we do not accept CVs, resumes or covering letters.