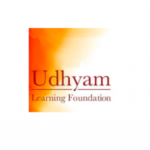 About Udhyam:
At Udhyam Learning Foundation (Udhyam), our vision is to "Co-create a caring world, where people fearlessly pursue their potential." Udhyam Shiksha, works on developing entrepreneurial mindsets amongst youth, and has partnered with state governments for designing and implementing programs for schools, ITIs and degree colleges. Udhyam works in collaboration with State Council for Education, Research and Training (SCERT) Delhi on developing, designing and execution of the Entrepreneurship Mindset Curriculum.
About EMC:
Entrepreneurship Mindset Curriculum (EMC) is a flagship program of the Delhi state government, co-designed by Udhyam along with SCERT Delhi. EMC aims to empower students to take charge of their career paths in employment of entrepreneurship) and realize their full potential. The curriculum was launched in 2019 in the 1000+ schools of Delhi State Government. It has a reach of 6 lakh+ students from classes 9 to 12, and is facilitated and supported by approximately 21,000 teachers. Business Blasters is a practical component of EMC for classes 11th and 12th. It was introduced in 2021 to provide our students an experience to work in teams, brainstorm and identify business opportunities, prepare business plans and implement their ideas. All participating students can receive seed money of Rs. 2000 per student. To Know more about the EMC please read this overview. 
We are looking for Social Media Interns to work with us part-time.
ROLES AND RESPONSIBILITIES:
Collecting & curating stories from the EMC classes 
Designing and executing campaigns and experimenting with content.
Handling Social Media accounts and groups on Facebook, Twitter, Youtube and Instagram and posting content. 
Creating customized content for stakeholders: students, teachers, parents, entrepreneurs, educationists, etc – how can we design content fit for their consumption and that helps us achieve our objectives (energy and momentum, teachers feeling unburdened & satisfied, parental awareness, motivation and recognition on social media). 
Creating demo/impacts videos for the program.
SKILLS REQUIRED:
Strong verbal, written and Visual communication
Basic copywriting, video and photo editing skills
High ownership and ability to work in fast-paced and ambiguous environment
Social Media management and basics of SEO  
Platform management – customising messages basis the platform (LinkedIn, Twitter etc)
The dynamic and fresh outlook nature of this role does not require degrees but someone who understands social media, audience engagement and can deliver content both with passion and time commitment It will be preferred if you are based out of Delhi, as this role would require being at our office and field at times.
Please drop us a mail with your CV or sample work or just tell us why you are the one at manasi@udhyam.org 
(Mail subject line: Application for Intern – Social Media Management)
Duration – 4-5 months(Extendable based on performance)
Stipend : Rs. 10,000 per month 
Commitment:  Full time