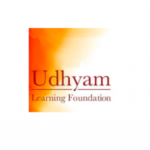 About Udhyam
At Udhyam Learning Foundation, our vision is to "Co-create a caring world, where people fearlessly pursue their potential." Udhyam Shiksha works on developing entrepreneurial mindsets amongst youth and has partnered with 9 state governments to design and implement programs for schools, ITIs, and degree colleges. 
About Business Blasters 
At Udhyam we believe in the "learning by doing" approach. What better way to build entrepreneurial mindsets than trying entrepreneurship hands-on? 
We are scaling up an exciting model to enable students to try their hands at entrepreneurship – the students get seed money to develop a business idea into reality. Over the course of this program, the students work in teams, get input for coming up with ideas and receive the requisite support to develop an idea into a viable business. The businesses also get assessed and the teams can advance to unlock mentorship and more resources. 
To deepen our impact, we are designing a number of online and offline features for the program to improve content delivery, deepen implementation quality and widen mentorship. We are looking for a Curriculum Specialist who will be a part of the core team of the program and will work closely with Udhyam's internal teams and government stakeholders to create scalable high-quality learning experiences for students.
Roles and Responsibilities
Research and Design:
Articulate learning objectives, learning journeys, and curriculum principles
Create engaging learning experiences for learners and facilitators
Design pilots to gather user feedback and improvise the content 
Create conversational flows for WhatsApp-based communication with learners and teachers
Research best practices in the incubation and entrepreneurship space
Develop & facilitate workshop designs and training materials for facilitators and internal team
Implementation and Program Management:
Collaborate closely with the operations team to plan the implementation
Collaborate closely with the M&E team for the evaluation framework
Facilitate mentorship and/or a network of mentors, coaches, business leaders, and consultants for learners 
Requirements:
2 to 3 years of experience as a content designer, preferably in the education sector/21st-century skills/ entrepreneurship space
Hands-on with operations, willing to pilot and experiment with different strategies, interacting regularly with students and various stakeholders across the state
Comfortable working in a fast-paced and ambiguous environment
Excellent communication skills in English
Knowledge of Punjabi is a plus, but not mandatory
Highly creative/entrepreneurial
Type of Role:
Permanent / Full Time
Location:
Remote with ~10 days a month on the field
Compensation 
6 – 8 LPA