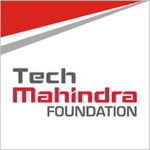 Organization Profile
Tech Mahindra Foundation is the Corporate social responsibility arm of Tech Mahindra Limited, a Mahindra Group Company. The Foundation set up in 2007, as a Section 25 Company (referred to as a Section 8 Company in the Companies Act, 2013), has been working tirelessly in the areas of education, disability and employability with a keen focus on corporate volunteering. It operates across eleven locations in India.
The Foundation has been running SMART Academies (since May 2016) with the intent of offering more advanced and longer-term courses in some specialized vocations. At present, the Foundation runs eight Tech Mahindra SMART Academies, including four SMART Academies for Healthcare, three SMART Academies for Digital Technologies and one SMART Academy for Logistics.
The goal of setting up these Academies was twofold — create, build and nurture youth to develop skills in specific industries including healthcare, digital technologies and logistics along with uplifting country's youth and transforming them into world-class professionals. The Academies offer both diploma and certificate (by the qualified professionals) courses.
Role and Responsibilities
Planning of the teaching programme including an orientation programme in consultation with the HOD Academics.
Planning for students' Practical experience, ward assignments and trainings in consultation with the HOD Academics.
Planning of curriculum with the cooperation and collaboration of the HOD Academics.
Competent in Handling Hospital Front desk in terms of Patient Appointments and queries
Preferred Team handling exposure of Patient care coordinators
Inbuilt empathy towards the patient and patient relatives
Knowledge of Hospital Billing components for IPD and OPD
Experience of handling TPA coordination and TPA queries for cashless facility
Knowledge of Hospital Billing and tax law applicable to the hospital or healthcare industry
Competent in Professional English (written and spoken) in terms of different professional – operational scenarios.
Proficient in training to provide outstanding services and ensure customer satisfaction.
To educate students on how to address customer concerns and complaints promptly and professionally.
To respond to customer needs and requests in a timely manner.
Competent in teaching telephone etiquettes and resolve queries.
To train to resolve billing concerns of customers and handle card and cash transactions.
Knowledge of healthcare operations and quality parameters.
Knowledge of Medical Record Science, medical terminology and Medical Coding.
Excellent communication, IT Skills and people skills
Desired Skill Set
● Excellent professional knowledge
● Good written and spoken English knowledge
● Good computer skills
● Broad-minded personality, which is open and curious about new teaching methods, responsible, reliable, team-minded and resilient.
● Prior exposure in house training or departmental training.
Experience: Minimum 2 years of experience working in Hospital Front office, Hospital Billing/ Medical Record Department
Qualification: MBA in Hospital and Healthcare Management with one year of experience in the Medical record Department/ Hospital Billing department or Diploma in Medical Record Science with two years of experience in Medical Record Department/ Hospital billing department.